Nurturing your Child's Imagination

| Warm and Comforting Environment | Passionate Teachers | Active Learning |
| Playgroup | Nursery | LKG | UKG | Daycare |
Get Started
Welcome

 t

o




Kids Castle Preschool
At Kids Castle Preschool, we aim to make every day a learning day, with wonderful experiences for your child. 
Our Playschool programs are carefully researched and planned to support your kids' sense of imagination. We are a Montessori school in Bangalore. The curriculum at Kids Castle includes various interesting and inspiring activities to stimulate early brain development with a focus on creativity.  
Our Montessori environment respects children's growing needs and individuality, with focuses on different skills development. 
At Kids Castle, we aim to make every day a learning day, with wonderful experiences for your child. 
Our programs are carefully researched and planned to support your kids' sense of imagination. Our curriculum at Kids Castle includes various interesting and inspiring activities to stimulate early brain development with a focus on creativity.  
Our Montessori environment respects children's growing needs and individuality, with focuses on different skills development. Currently, all the activities are being conducted Online. 
The modern curriculum here provides each child with the ability to learn and grow
Phonics: The Building Block
Phonics is a concept wherein a child rather than learning a complete word, learns the sound of the alphabet first.
Math: Number Wonder
At Kids Castle Preschool Math is introduced right from Playgroup and children continue to learn Math till UKG.
Rhyme Time: The Sea of Rhythm
Rhyme Time is a poetic technique in which children notice and work with sounds of words. 
Yoga Studio: Your way to Fitness
Yoga increases coordination, improves concentration, encourages a calmer mind, alleviates stress, promotes self-expression, inculcates discipline and healthy habits.
Story Time: Raise a Little Reader
Storytelling is of utmost significance as it introduces a child to sounds, words and languages and develops early literacy skills.
Concepts: Step-by-Step
Concepts help a child to understand direction, location, position, number, quantity, sequence, attributes, dimension, size and similarities and differences.
Art & Craft: Creative Corner
Art & Craft is the skill of creatively making objects by hand for decoration and practical uses, which plays a vital part in ensuring that the child is well rounded in creative development. 
Sports: Fitness for All [Fit-Blitz]
Sports is an integral part of the curriculum at Kids Castle Preschool, as this develops the child's mental alertness, team spirit, learning skills, self-esteem, besides giving enjoyment and relaxation to the child.
Stage n Mike: The Rising Star
Stage & Mike activity is a concept for enhancing the communication and social skills of the child, as well as for helping the child to overcome basic shyness and stage fear.
"Thanks for the wonderful coaching and monitoring provided by the 'Kids Castle' team. Pranav has improved a lot. The Montessori method of education is pretty good and he is able to pick so many things and activities very quickly. The support staff is also very good and they are taking good care of all the children. special thanks to his class teachers who are working very difficult on all the kids to reach the next level."
"Happy to see the activities done at school like Artwork, Craftwork etc., Soft-spoken and good inputs from the teachers' end. They are very friendly, understand the nature of every child and train accordingly. This gives parents confidence & a positive feeling we are happy to have chosen Kids Castle as the montessori school for our kid."
"A great improvement was seen in Gitanshi in terms of English speaking, reading rhymes and doing activities. Continue the same. Very good experience. Thanks to all the teachers and staff for taking good care of her."
"We are very happy with our child's progress and the way she has been taken care of. Wonderful transformation. We are very thankful for the entire staff(teachers, housekeeping) and all the staff as well as the centre head. Thanks a lot."
"Aaradhya has improved a lot in her writing part. I was a little worried about whether she will be able to cope up or not. She showed improvement. The video that I saw was really nice. I appreciate the class teacher and other staff members who guide the kids so well to improve the basics. I would like to thank all of them."
"At first he was not even interested to come to school. Now he just loves to come to school. He has started to recognize alphabets, numbers, shapes and colours. Thanks to all the teachers and helpers to help Adrij in every way and to love him to that extent that he loves his school very much."
"School has supported us to settle Ahana. The staff is very good. Ahana has learned very quickly rhymes and alphabets. The class teacher also very good in support to kids."
"It has been a great experience for Amelia by being a part of Kids Castle. She has learned much and also improved a lot in her communication skills. She is interacting much better with the kids and elders. Would like to thank the teachers and staff who work hard to make her pre-school days such an enjoyable one."
"
I am extremely happy the way Alisha is learning new things at Kids Castle. As a parent, my utmost priority is Alisha's safety and I must say, I am very happy with the way Deepti mam and Swati mam takes a personal interest in taking care of her. Thank you team Kids Castle for helping me out shaping my daughters future.
"
"We are happy with various activities done by the school. The staff members and teachers are very good. Interactions with the Class teacher is very comfortable and convenient for us. Passing information in correct time is very helpful for us to cope up with the school curriculum.
"
"My child was a little shy before coming to Kids Castle, after joining Kids Castle he has opened up. He loves coming to school and likes his teacher. He has become more active after joining Kids Castle. Looking forward to his activities and improvements in the coming days. I am thankful to all the teaching and non-teaching staff of Kids Castle.
"
Montessori School in Bangalore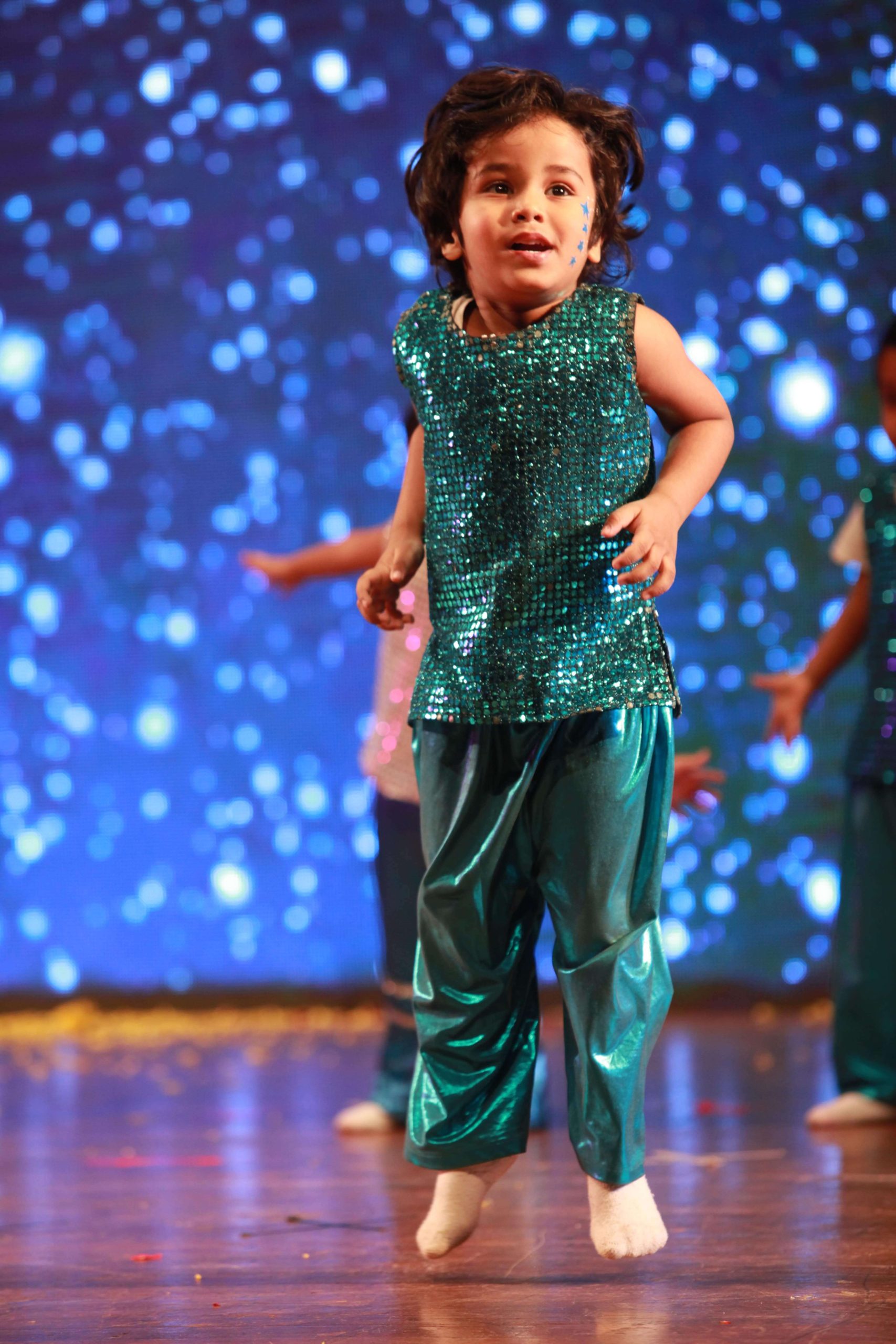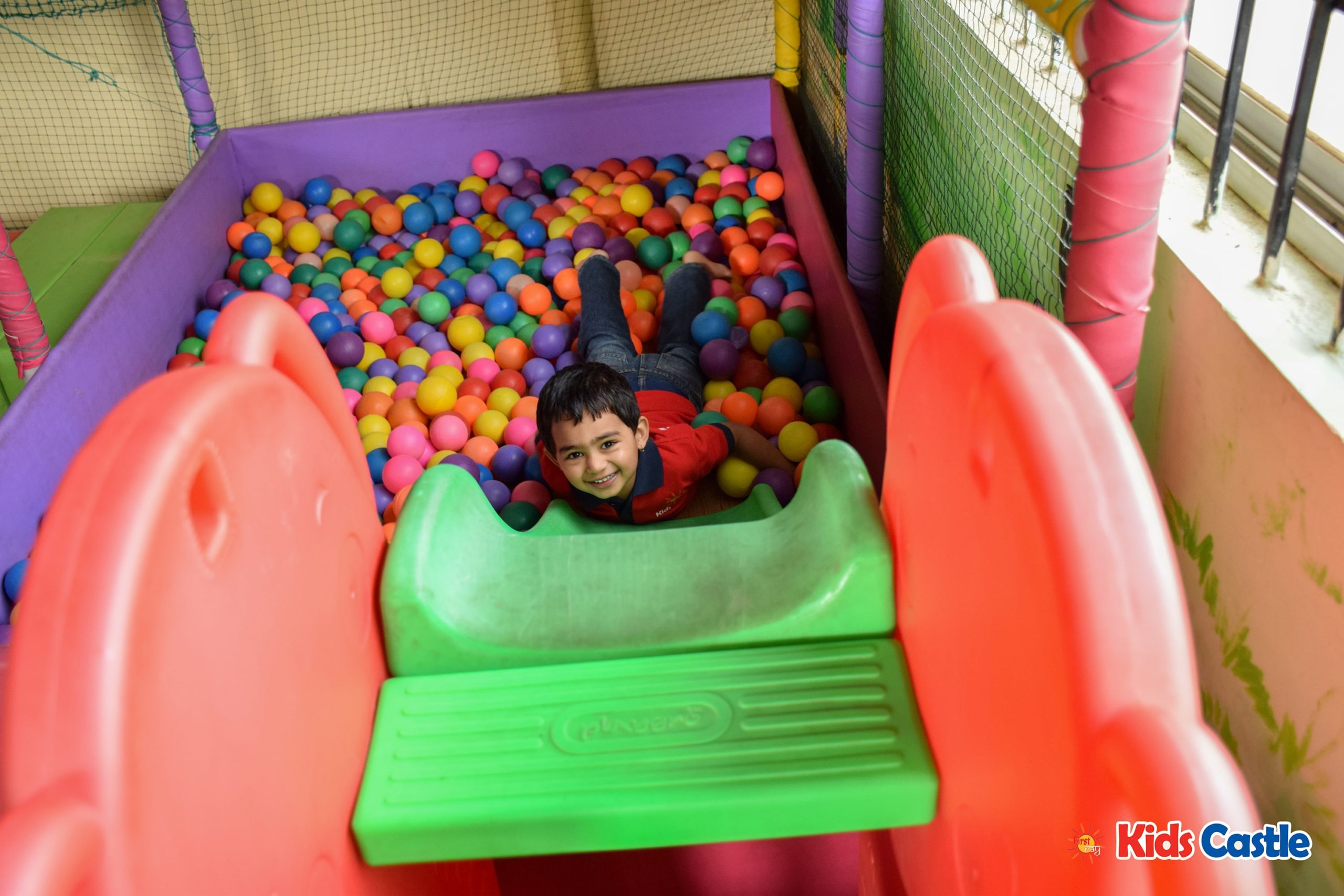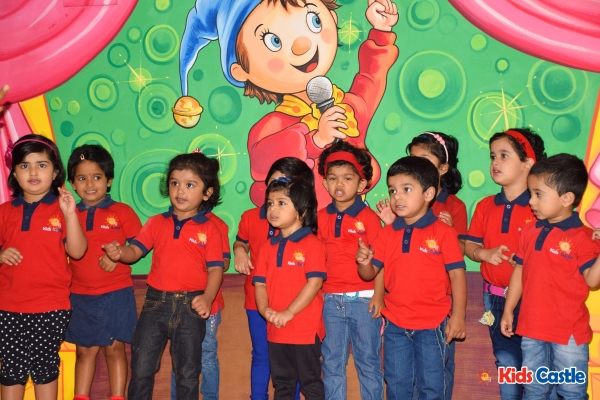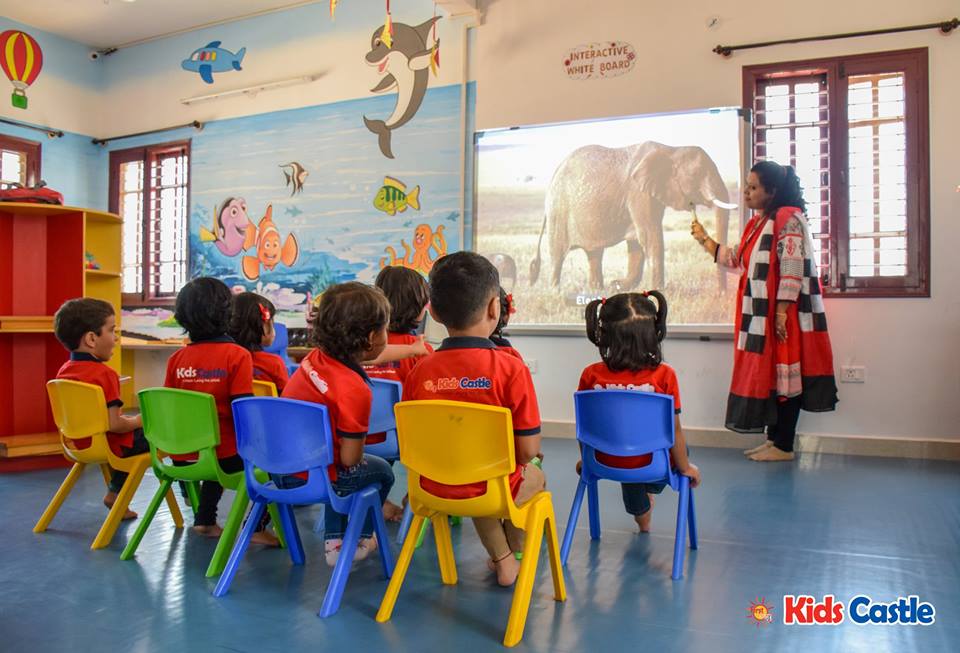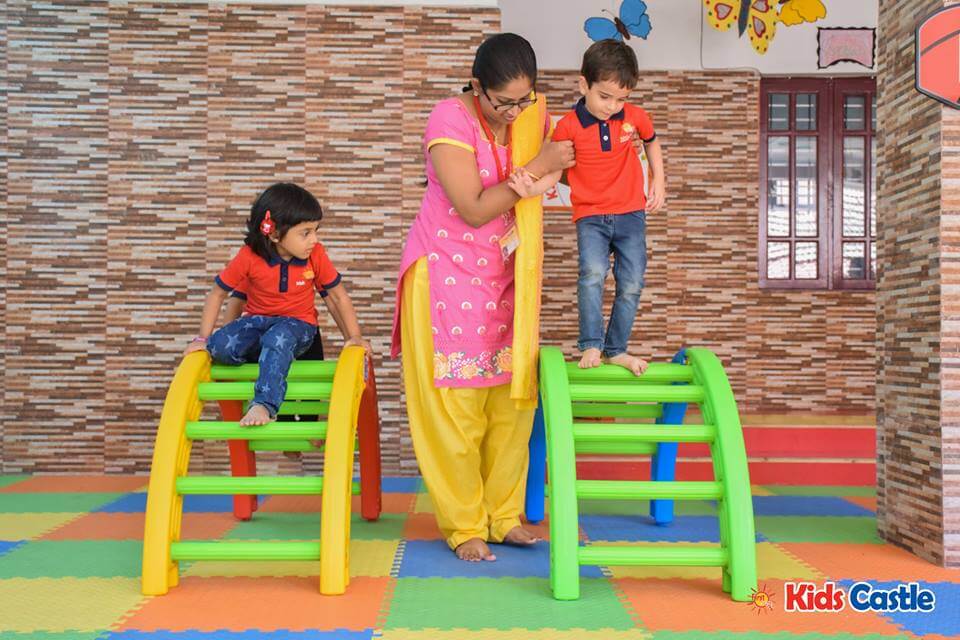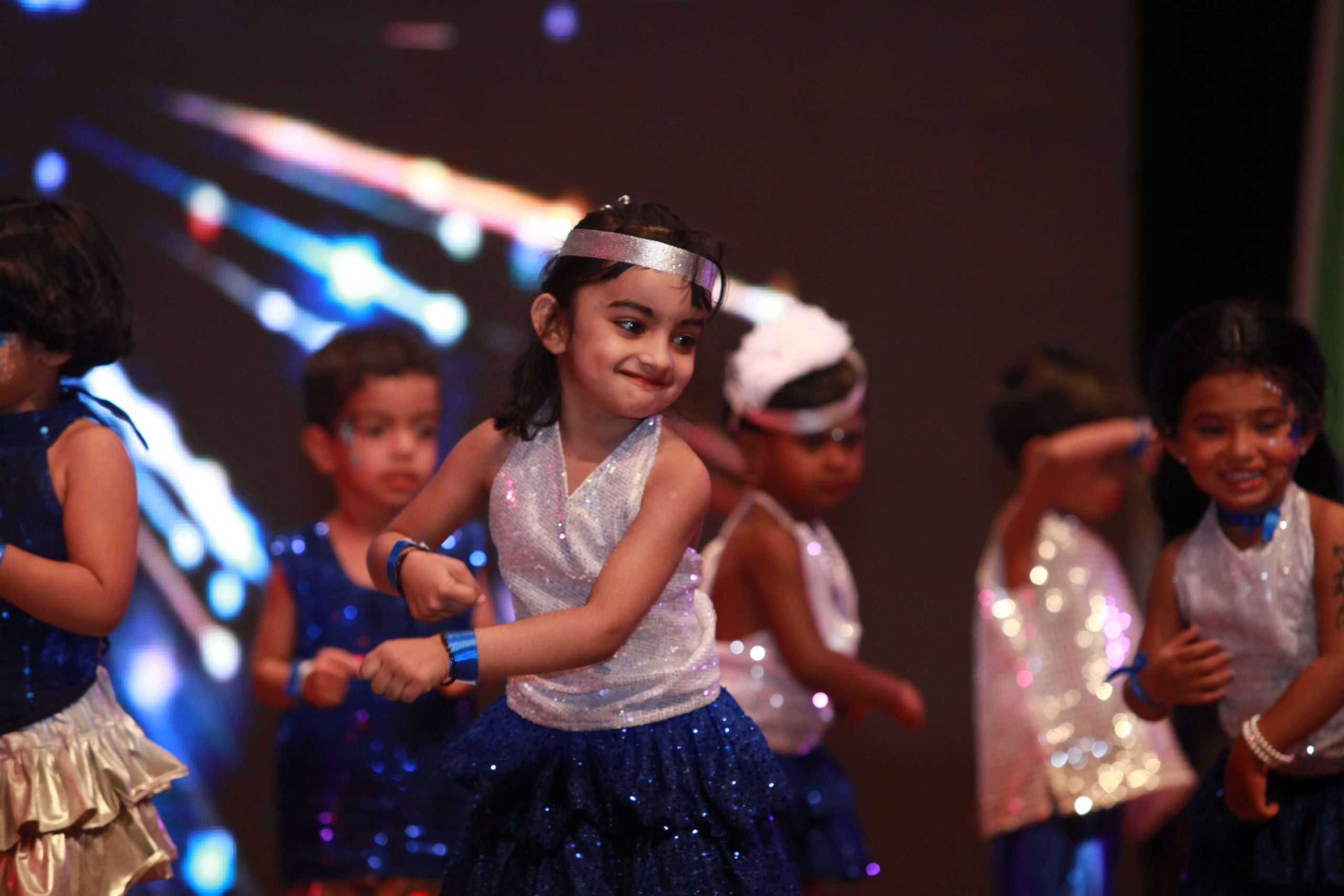 Videos and Photographs of your Children
Playgroup is the most exciting yet important phase of your child. The children for the first time come out of the comfort of their parents and start to interact with the environment. At Kids Castle Playschool, we ensure that a child develops affection towards the school, makes new friends, understands the student-teacher relationship and most importantly knows that there is a world outside their home. During Playgroup the learning happens through themes and play activities. We focus on improving gross muscle development during this age through Montessori mode.
The Playgroup program at Kids Castle Preschool focuses on the following aspects of a child:
Motor Skills: The Playgroup children are exposed to an atmosphere where they spend maximum time in exploration. The focus is more on developing their fine and gross motor skills through various interesting activities.
Social Skills: Children are taught social skills through engaging in conversations in a group, stage activities and rhyme fun time.
Emotional Skills: At Kids Castle we help a child to express their emotions right from joy to frustration and happiness to sadness. Also, the young one's knowledge about life's critical learnings like sharing, cooperation, helping, respecting others, etc.
Age: 2 to 3 Years
Student-Teacher Ratio: 1:12
Session Timings: 2 Hours
At this age, the children are much more receptive and are eager to learn new concepts. There is a lot of focus on improving fine muscle development through Montessori mode. Throughout the day children make self-directed actions (but carefully guided choices), participate in groups activities, take part in circle time and build the confidence needed to try new things. In our Nursery school, children enjoy free play allowing creativity and imagination to flourish. Teachers facilitate opportunities for children to engage in reading, writing, listening and speaking using poems, fingerplays, puppets, singing and rhyming.
Our Kids Castle Nursery Class children explore things around them with Montessori focused activities. They acquaint themselves with teaching aids with different grips, learn about shapes, colours, letters and numbers. They learn about patterns and other creative designs. At this age, children are driven to learn and actively come to terms with the way the world operates. Kids Castle opens their eyes to a world of learning, sharing and exploring through our Montessori education methods. Our teaching approach and playschool activities engage young minds with a blend of music, art, storytelling and movements. This approach uses an explosion of language that allows them to interact more verbally, giving us a clearer insight into their perceptions.
Age: 3 to 4 Years
Student-Teacher Ratio: 1:12
Session Timings: 3 Hours
Considering that each child is unique we have created an age-appropriate curriculum for Kindergarten. The curriculum at Kids Castle school is an integrated approach of Montessori and Kindergarten and is designed keeping in mind the growing needs of a child.
At this age, children prepare themselves for a formal school experience. The LKG Program at Kids Castle is designed to get them ready for school by teaching letters, words, math concepts and valuable social skills. Themes are designed in such a method that children learn as well as understand the complex concepts of the outside world in detail. For the LKG program, we ensure that the child gains social, emotional, physical and intellectual skills. During LKG the children get introduced to formal schooling subjects like Maths, Science, English and Writing.
What does your Child learn at Kids Castle?
The children at this age have already developed their fine and gross muscle skills, thus we focus on developing social, emotional, physical, and intellectual skills.
Social
Interacting with elders, teachers, friends, etc.
Understanding and recognizing others' emotions
Converse in English
Getting fully prepared for a formal school experience
Understand student-teacher relationship
Emotional
Being expressive and understanding others' feelings.
Sharing ideas, thoughts and feelings
Caring for others
Respecting teachers
Physical
Greater control over the body
Dressing independently
Doing basic household chores
Playing games
Intellectual
Questioning things around them
Understanding a sequence of events
Grasping spatial relationships and the concept of time
Age: 4 to 5 Years
Student-Teacher Ratio: 1:12
Session Timings: 4 Hours
Our UKG curriculum meets the requirements of CBSE and ICSE. UKG curriculum is backed by PEARSON mode of teaching, and Kids Castle Kindergarten follows international curriculum standards. A child in UKG at Kids Castle is prepared to clear introduction sessions at all formal schools, and an immense effort is focused on development of below mentioned key areas:
Language
Complete knowledge of writing a sentence in English, paragraph comprehension, stories, introduction to grammar etc. is completed in UKG class. This helps your child to score better grades under a formal school learning experience.
Public Speaking
Kids Castle focuses on public speaking and inculcating a habit among children to respond well to questions asked by family and friends. We emphasise a lot on stage activities, Mike time, circle time activities, picture talk and exhibitions to improvise public speaking in a child.
Mathematics
This program covers the development of pre-mathematical skills related to comparison, sorting, matching, ordering, sequencing and counting.
Writing
Immense effort is focused on writing cursive, capital letters and sentences in UKG. Writing opens a gateway to learning for any child; the sooner a child learns to write properly quicker the child would be able to grasp English, Math and Science concepts.
Also, our program enhances the development of physical control, mobility, awareness of space and skills.
Age: 5 to 6 Years
Student-Teacher Ratio: 1:12
Session Timings: 4hrs 30 mins
Keeping in mind the need of working parents, Kids Castle has developed unique daycare facilities for children. The after school hours are full of constructive activities to keep the young ones engaged all the time. Unlike most of the daycare schools, where meals and sleep are the only facilities provided to daycare children, Kids Castle offers a number of activities in addition at our daycare.
We follow the highest standards of hygiene and ensure that the daycare coordinators are working in shifts in order to remain fresh and attentive for the complete day. Usual schools employ daycare teachers working straight from morning 8:30 AM to 7:30 PM which is very difficult for a daycare coordinator to follow. At Kids Castle the daycare staff is separate from the school teaching staff and they come in shifts to attend to daycare needs. We have over 40 centers in Bangalore so you can access a daycare near you.
Following Facilities Are Available To Daycare Children:
Highest quality infrastructural facilities
Separate Daycare Beds
Hygienic and clean environment
Extended Daycare timings
Yoga class
Daycare facility available on Saturday as well
Daycare kits
Spacious & well-lit classroom
Ball pool
Sand-pit
Splash pool
Quality outdoor & indoor play area and equipment
Non-toxic child-safe toys
Child-safe and clean toilets
Outdoor playtime
Snack time
Digital classroom activities

Kids Castle

Centers in

Bangalore
Montessori oriented Preschool in Bangalore
6th Cross Kaggadasapura
#28, 6th C Cross, Kaggadasspura, Near Snap Fitness Gym, Bangalore – 560093
Pai Layout
#69, 2nd Main, 1st Cross, Pai Layout, Old Madras Road, Bangalore – 560016
Old Airport Road
#35 B block, 1st cross Vinayaka Nagar, Old Airport road, Bangalore 17
Banaswadi
#No. 4C/411, Channasandra Main Rd, Pilla Reddy Nagar, OMBR Layout, Adjacent to State bank of Bikaner & Jaipur, Banaswadi – 560043
Babusapalya/Kalyan Nagar
House No. 31, 6th Street, Prakruthi Layout, Kalyan Nagar Post, Opposite to Maruthi Vidyalaya, Bangalore 560 043
J.P. Nagar
No. 14, 6th C Main, Gourav Nagar, J.P. Nagar 7th Phase Bangalore 560078
Vijaya Bank Layout
#16, sy.no 11/2A, behind Anjenaya swamy temple , Kodichikanahalli main road, Bilekahalli post, Bangalore- 560076
Jayanthi Nagar
No. 13, 2nd cross, Jayanthi Nagar extension, Horamavu, Bangalore- 560016
Kaggadasapura Main Road
Om Shiva Shakthi Arcade, No.51, Kaggadasapura Main Road, C. V. Raman Nagar Post, Bangalore 560093
HRBR Layout/Hennur
House No. 333, 4th A cross, 3rd Block HRBR Layout, Kalyan Nagar, Bangalore – 560043
GM Palya
No. 492 B Second Main Road, GM Palya C.V. Raman Nagar, Near BEML Gate, Bangalore – 75
LB Shashtri Nagar
No. 6, 8th Cross, LB Shastri Nagar, HAL Post, Near to Nilgiris, Bangalore – 560017 
Doddanekundi
House No. 83, Vasanatham, 1st Cross, 1st Main Gururaja Layout, Doddanekundi, Marathalli, Near Max shoppe supermarket, Bangalore 560037 
Vignan Nagar
#1, Kurnool Mansion, Kuvempu Road, Opposite Lane to Fair Choice Supermarket, Bangalore – 560075
Ayyappanagar- hoodi main road
No.1,2,3, Gokul Mansion, 1st floor, Hoodi, Ayappanagar Main Road, KR Puram, Bangalore–560036
Kaggadasapura Extension
No.275/1, 6th C cross, Kaggadasapura, CV Raman nagar, Bangalore-560093
Anandpura
#81, 2nd main, Mukthi Vinayaka layout, T C Palya main road, Behind Bharat petrol Bunk, Anandapura, K. R. Puram, Bengaluru 560036
Abbaiah Reddy Layout
#7, 1st Cross, Abbaiah Reddy Layout, Behind HP Petrol Bunk, Bangalore – 560093
Malleshpalya
House No.13, 10th Main, Malleshpalya, Near Medi Hope Hospital, Bangalore – 560075 
Arekere
No. 106, 2nd Cross, Sidda Reddy layout, Near L&T South City, Arakere Mico Layout, B.G Road Bangalore – 76
Horamavu
#35, 36 8th cross Near Deva Matha School Aashirwad Colony, Horamvu, Bengaluru 560043
Old Airport Road, Vinayaka Nagar
Number No: 13 Akshaya, 1st Cross A Block Vinayaka Nagar Bangalore-560017
Hoysala Nagar
#15, 3rd Main Road, Hoysala Nagar, Ramamurthy Nagar, Bangalore – 560016
NRI Layout
#143, 5th cross, Chikkaramiah Badavane Layout, Varanasi zinthimmna halli, Bidara halli Hobli, Bangalore South Taluk, Bangalore 560016
HBR 5th Block
1279 36th cross, 19th Main Rd, 5th Block, HBR Layout, Bengaluru, Karnataka 560043
RT Nagar
No.7, Basava Kuteera, 2nd Main, 7th Cross, Dinnur, R.T Nagar Post, Bengaluru – 560032
Abbaiah Reddy Layout wing 2
#7, 1st Cross, Abbaiah Reddy Layout, Behind HP Petrol Bunk, Bangalore – 560093
Marathalli
No.93, Rajshree Layout, Munnekollalu, Marathahalli Post, Bangalore – 560037
Ram Murthy Nagar
No.42, Indraprastha Layout, Ramamurthy Nagar, Pappama Layout, Behind Indian Oil Petrol Station, opposite lane to Malnad Furnishers, Bangalore- 560016 
Bellandur
# 400,75/2 Sunrise Villas Bellandur main Gate . Bellandur 560103
B. Narayanpura
No.39, 1rst main Nandini layout,  Bangalore 560016
Battarahalli
#23, RMS layout, Basavanpura road, Battarahalli, Bangalore – 560049
Banjara layout
#1,2,3 sites, adjacent Neeraja Halcyon Villa, Hormavu Agra, Banjara Layout, Near Hormavu Agra Lake, Bangalore 560043
Kempapura (Hebbal)
No 19,1ST main, 6th cross pampa extn, Kempapura, Hebbal Bangalore 560024
Munnekollal
No.42, Khatha No.326, Property No,48, Munnekolal Village, Varthur Hobli, Bangalore 560 037
Mahadevpura
# 13/316, Akash Nagar, 6th Cross, 1st Main, Nandini Layout, PWD Road, Narayanpura – 560016
Kasturi Nagar
Kids Castle Preschool, House No.29, 1st D Cross, 2nd Main, East of NGEF, Kasturi Nagar, Bangalore – 560043
Akshaya Nagar
#18, 12th cross, Akshayanagar, TC palya main road, Rama Murthy Nagar, Adjacent to Karnataka Bank ATM, BANGALORE – 560016
Maruthi Nagar
House no. 29, 10th A Main, 2nd cross, Maruthi Nagar, Bangalore – 560 075
Sarjapur - Kasvanahalli
#297, 8th cross kpc layout, kasavanahalli off sarjapur road, Bangalore-560035
Ayyappa Nagar
No. 100w, sreedevi Krupa, 2nd cross, Bethel Nagar, kodigehalli main road, KR puram, bangalore – 560036
Ramamurthy Nagar Main Road
No. 23, Apparao Layout, Ramamurthy Nagar, Bangalore – 560016
Kalkere
#331 prayas nilaya 3rd cross 12th main, Opposite to sundara anjaneya temple, kalkere